An incredible test of endurance, the Volvo Ocean Race is often described as the Everest of sailing. By the numbers, it is a race covering four continents and five oceans, completed in nine legs with ten in-port races. The iconic race extends over a period of nine months, engaging seven teams of nine sailors each, as they circumnavigate the earth on board one-design boats, testing every fiber of a sailor's being. All equipped with virtually the same boat, The Volvo Ocean Race removes advantages of technology and design, reducing the contest to one of human ability.
From the cantankerous, punishing Southern Ocean, to the flats and doldrums of the St. Helena high, nature's challenges pit man against man in this arduous mental, physical, and emotional fitness test. When conditions aren't demanding every second of attention dedicated to survival, intense navigation and smart sailing must work to steal seconds from each tack and every sail change, around the clock, for about 25 days straight on most legs . It's not for everyone, but for everyone that competes, it is the epitome of perseverance, skill, and teamwork.
In this race, every day on the water holds intense drama. Presented in this Navis Yachts photo essay is a selection of the finest moments of the race, depicting both the typical and the extreme, as these elite athletes perform a most intricate dance with wind, water, physics, technology, and perhaps, even luck.
November 19, Leg 2, Cape Town, South Africa to Abu Dhabi Start
As the yachts departed Cape Town, South Africa, on November 19, 2014 at the start of Leg 2, they each prepared to carve precious minutes from their times, with sights set on arriving first in Abu Dhabi. A massive tablecloth of clouds fluttered over Table Mountain as the yachts streamed from the harbor, shooting out like a horizontal fireworks display toward the Indian Ocean. They began in the mountain's large wind shadow with concerns about light air, but this day provided plenty of push as the teams headed around the five, in-port marks, then out to sea. In an intense race where several teams could read the expressions on the faces of competitors, this leg kept the boats close for a while, registering the intensity as they all focused on the important strategy of exactly when to make the gybe north.
November 30, Leg 2, A Bump in the Night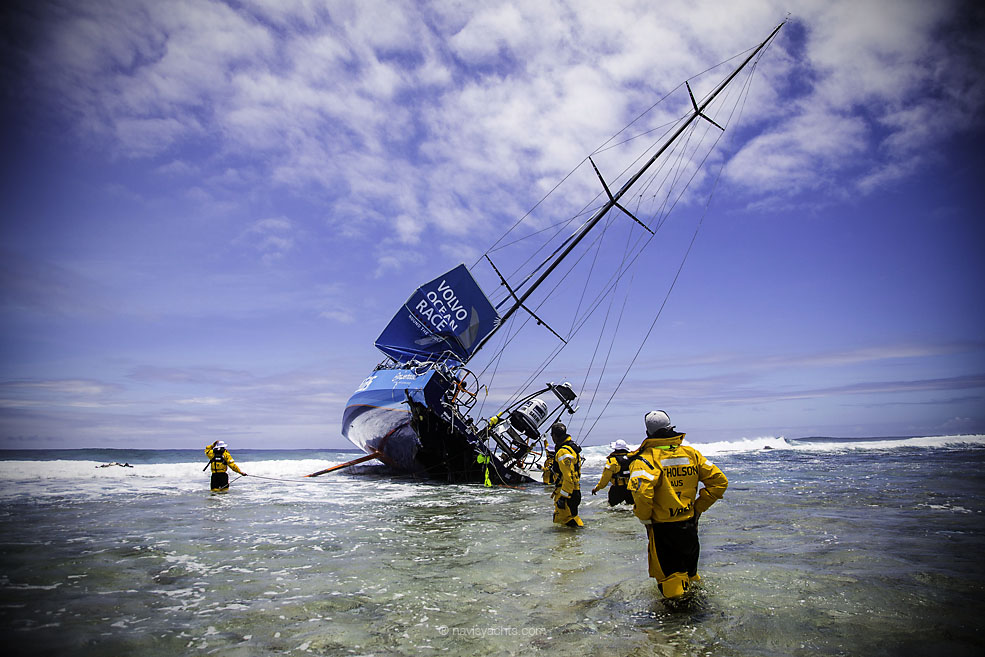 In the dark of night, sailing through the East African Exclusion Zone that had been amended just before departure in Cape Town, and in a tropical depression, Team Vestas Wind experienced a sailor's worst nightmare. Despite their best navigational effort, the boat ran aground on the Cargados Carajos Shoals, experiencing dramatic shocks to the boat and crew with every wave breaking over the bow, both rudders broken, and the stern heavily damaged. All sailors safely abandoned ship at around 3 in the morning, salvaging what they could while attending to any environmental concerns posed by the event. Team Alvimedica, the closest to Team Vestas Wind at the time, awaited instruction, then sailed on as the Vestas crew awaited a 5:30 a.m. Coast Guard transport to the station at Ile du Sud. This challenging Leg, rounding Cape Horn, going east around Madagascar, then Le Reunion and Mauritius, was further complicated by a storm bringing 30 knot breezes and seven meter seas.
December 3, Leg 2, Indian Ocean Sunset
Much of the time spent on the boats in the Volvo Ocean Race is focused on survival, strategy, and precious little sleep. A few isolated moments interspersed the action, however, and a calm ocean occasionally permitted the appreciation of the scenery. In this case, the opportunity was a beautiful sunset. So it was with Yann Riou on board with Dongfeng Ocean Racing, as he captured this shot with the profile of their biggest challenge this leg, Team Brunel, perfectly outlined on the glorious horizon, December 3, 2014.
January 12, 2015, Leg 3 from Abu Dhabi to Sanya, China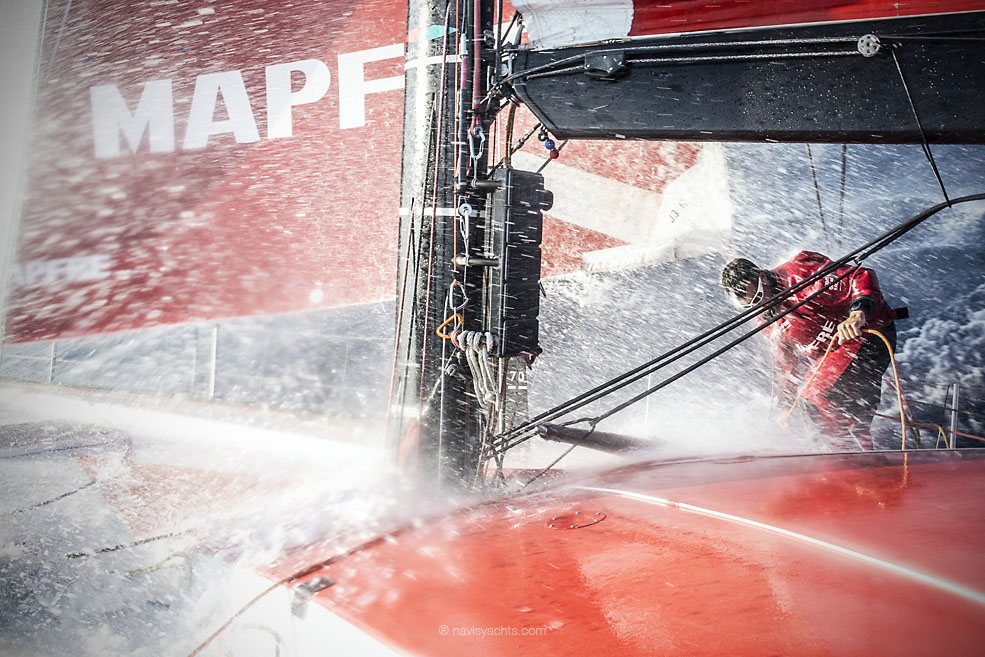 Every leg of the 2014-2015 Volvo Ocean Race had its dangers posed by wind and sea. The consistent need for strength, good judgment, quick response, and perseverance turned many a dangerous situation from "what lies ahead," to a story to share in port. On board Mapfre, trimmer/bowman Carlos Hernández illustrates the conditions frequently encountered as the crews went about their tasks on Leg 3, sailing from Abu Dhabi to Sanya, China.
February 20, 2015, Leg 4 from Sanya, China to Auckland, New Zealand
What does it take to be a part of this race? That is, not simply to be chosen for a team in the Volvo Ocean Race, but to also dedicate every moment of time on board to performing at peak, working harder, longer, faster, and smarter than the competition? It takes intense focus, like that shown here in this photo taken on board Dongfeng by Sam Greenfield. In the background, a sailor experiences his own moment of bliss as he enjoys a quick shower, the first in two weeks, while surveying the magnificent backdrop.
March 30, 2015, Leg 5, Auckland, New Zealand to Itajai, Brazil
After heading out of Auckland, the teams drive toward the ice limits. These imaginary boundary lines were drawn, and the skippers instructed to keep them to starboard, in order to avoid collisions with floating sea ice. Posing incredible risk to the hulls of these exceptional boats and the safety of these teams, chunks of sea ice were identified by radar and indicated on screens to help the navigators chart their brilliant courses. Three recent finds the night before departure from Auckland pushed the waypoints of the course further north. During this leg, Dongfeng Ocean Racing broke a mast, three teams endured crash gybes, with Mapfre's caught forever on a dramatic video, and Team SCA suffering a broken Fractional Code Zero. On day 13, as Team Brunel made their way around Cape Horn, conditions made for a brisk celebratory turn at this historic landmark. Some smoked cigars, others made signs and took photos, but most simply took it all in, appreciating the moment for what it was: an exceptional experience for a privileged few.
March 23, Leg 5, The Edge of The Ice
Just north of the ice limit boundary, Luke "Parko" Parkinson swung out over the four-degree water to take care of a gybing sheet on board with Abu Dhabi Ocean Racing. Parko's head was rigged with a GoPro camera to capture footage on the fly. On board reporter Matt Knighton recognized the danger he posed to his own camera as he prepared for the shot, challenged by 20 knot winds rolling him leeward. Always going for the exceptional shot, however, he steadied himself as best he could, capturing Panko's acrobatic move against a dramatic sky and rough ocean.
April 1, 2015, Leg 5, Heavy Moments
The Dongfeng Ocean Racing Team endured a quiet night, hobbling into Ushuaia with a jury-rigged mast. Broken above the third spreader, it left the main sail and FRO whipping around the damaged leeward side of the boat, dangerously hanging from the halyard and one sail. The boat's position, at about 160 nm to the west of Cape Horn, and the resulting slow progress of 6-8 nm, forced retirement from the leg. The shore team arranged logistics to get the boat to the next port at Itajai, Brazil, where proper repairs were made. Skipper Charles Caudrelier maintained that his team made no mistakes, and all remained puzzled about the cause, but kept good humor at hand. Recalling his previous Volvo Ocean Race on board Groupama, Caudrelier acknowledged that it wouldn't be a Volvo Ocean Race without a big challenge, keeping hope steady for a strong finish despite the team's loss here in Leg 5.
April 2, Leg 5, 50 Knot Winds and the Strait of Le Maire
Impressive seas and stinging spray blasted the crew at every slap in the trough through the Roaring Forties and up the coast of South America on Leg 5. Six days in, things got very interesting as the crews began to experience the real force of the Southern Ocean. Additionally, a low pressure system off the coast of South America whipped up winds to 50 knots, with appropriately high seas, as illustrated in this photo on board with Team Alvimedica. Wet and cold, with many experiencing bouts of seasickness for two weeks straight, the teams persevered, with the remaining five teams arriving in Itajai, Brazil, very happy to see land.
April 29, Leg 6, A Skipper's View
The teams departed Brazil in simple sailing conditions, expecting things to be rather routine for the first week with fair winds and good sailing. Mounds of seaweed, however, began collecting on the boats below the waterline, requiring constant removal. As the crews headed up to the equator and into the Bermuda Triangle, the realization that Newport, Rhode Island was getting closer brought smiles. To deliver an image that captured what it's like to stand behind the wheel of one of these fabulous 65-foot boats, Kevin Escoffier of Dongfeng Ocean Racing obliged by allowing a camera under his chin while attending to the boat, clipping along at 20 knots, and trying his best to maintain the team's first place position.
May 7, 2015, Leg 6, A Peaceful Newport Sunrise
Just two hours from arrival in Newport, Corinna Halloran, on board with Team SCA, took a moment to watch the beautiful show nature put on as the day began to awaken. A gorgeous sky embraced the smooth ocean horizon line with an amazing palette of blue and orange. Rushing through busier days without a moment to appreciate the surroundings, mornings like this don't come easy, but when they do, Corinna recorded how truly important it is to recognize and share them.
June 8, Leg 8, Lisbon to Lorient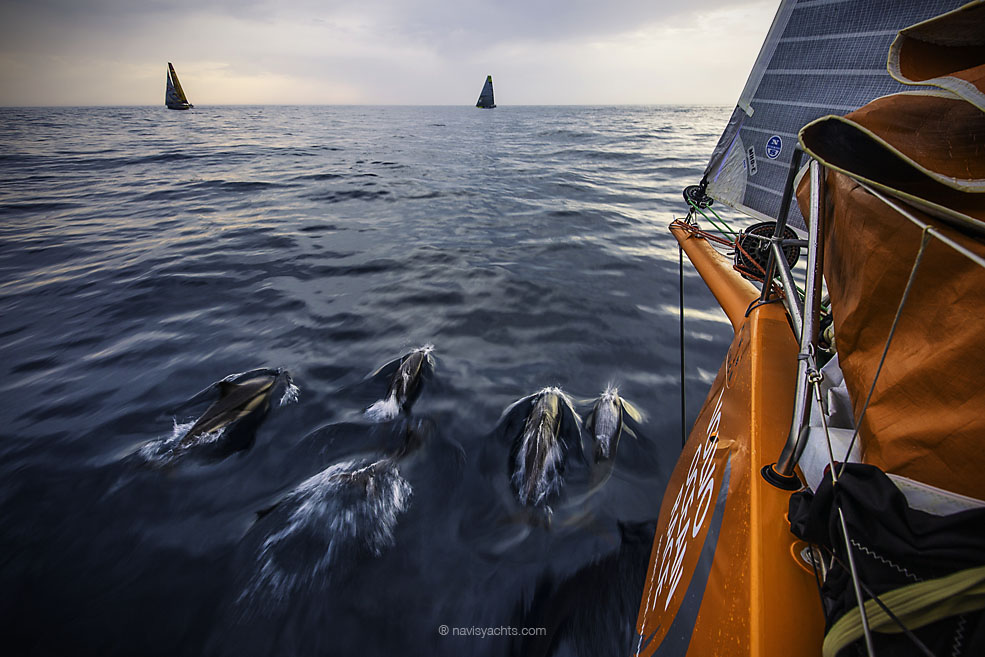 Team Alvimedica was treated to a Portuguese dolphin escort as they departed Lisbon, with Team Brunel and The Abu Dhabi Ocean Racing Team outlined on the horizon. This short, fast leg, expected to take only three or four days, must have seemed an easy task compared to the 20-25 day legs spent getting blasted with stiff winds and freezing water. The teams still had to navigate Cape Finisterre, also known as the Costa do Morte, or the Cape of Death. Familiar to experienced sailors as one of the trickiest to navigate, it is not uncommon to experience 40 knot winds and huge seas en route. Team members that had not been sick the entire race spent this leg in agony, constantly dealing with the splash of water, both above and below deck. Sailors were sent banging about hard surfaces with elbows, knees, shoulders and heads, as the sea tossed them carelessly. The good news was, however, that there were just hours remaining in the leg, as opposed to days.